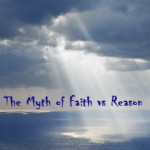 Are You Rattled or Ready?
Have you ever been told, "you have faith but I trust reason and science"? Does the suggestion that you believe fairy tales while unbelievers stand on facts and solid intellectual ground bother you? Can you easily answer the claim and prepare your children to answer this and the many other sophisticated arguments of unbelief?
What if the Opposite Is True?
What if you could easily see that all such arguments are built on unreasonable blind faith, that your trust in the Word of the Creator and Sustainer of all things is reasonable and supported by every known fact in the universe? What if you could increase your joy, comfort, and faith in Christ and Scripture in the face of the most sophisticated attacks of unbelief? And, what if you could do this all without reading countless technical books? Well, you can.
Using simple language and illustrations, the Unbreakable Faith course and companion books God the Reason and The Box explore the amazing nature and implications of the infinite excellence of God's perfections, exposing the unreasonable blind faith of unbelief while boosting your knowledge and love of God.
Everyone Has Faith…in Something
All people reason by faith in an ultimate authority by which they interpret God and the universe. Atheists trust their own ability to interpret the world and answer ultimate questions about God and reality, while Christians trust God's explanation of such things. Atheists reason by faith in themselves while believers reason by faith in God. Both use reason and both have faith. But who reasons rightly? And which object of faith can speak with authority and be trusted to answer ultimate questions about God, life, and the universe? Here lies the issue.
We Have Limits
If my atheist neighbor can't know the contents of my garage without having a look, he can't be trusted to explain the nature of an infinite God and His universe. God must tell us such things. And complete knowledge of the universe and beyond, or the omniscience of the God the atheist denies, is required to know that God does not exist. (For simple and fun examples of how to see and expose the unreasonable faith of unbelief, see The Box: Answering the Faith of Unbelief.)
A Rock and an Empty Place
Believers trust the One who created, sustains, and knows all things, who clearly displays His power and genius in the universe, who orders and sustains every law by which we do science (random chance produces no laws), whose moral law is written on every heart, whose goodness appears in every raindrop, flower, and morsel of food, who dwelt among us and suffered to display His perfect nature and purchase our eternal happiness. Believers trust the God who has personally and clearly explained His nature and works, including the ultimate nature of the universe He created and upholds. Atheists trust their opinions.
No God—No Science
Every scientific discovery affirms the genius and power of God. And speculation about God, as well as science, would be impossible in a random chance universe—no laws, language, truth, knowledge, logic, experiment, or scientist would be possible. Our world cannot exist apart from the personal and powerful God of Scripture. Whose faith, then, is reasonable?
Want to Learn More?
To further your love and knowledge of God's excellence, and increase your joy, comfort, and faith in Christ and Scripture, I would like to offer you a free chapters from The Box as my gift to you. Click here for your free chapters.
Click here to download a PDF of this article.
Read the sponsored blog post on www.challies.com
Yes, I Want a PDF of "The Myth of Faith Versus Reason"
We respect your privacy. We'll NEVER sell, rent, or share your email address. That's more than a policy, it's our guarantee!