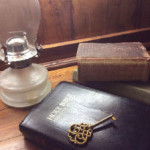 Have you ever heard that Scripture is no more than a human book, like Shakespeare or other classics? And have you felt unprepared to respond with historical and other arguments to convince the objector of its divine nature? Yet, while the proofs for Scripture as God's Word are plentiful and helpful, the greatest evidence cannot be learned in the classroom.
God's "Fingerprints"
Scripture teaches that the marks of God's power, genius, and goodness are clearly seen in created things, good things, and His law written on every heart.[1] In the same way, Scripture bears the clear, comprehensive, and compelling marks of God as its Author. Denials of God's existence and Scripture as God's Word come not from a lack of evidence, but from a dislike of the implications (i.e., God rules, we don't; we owe Him everything; we can't do anything we want; God will judge sin, et al). In speaking of Scripture and the Gospel, Jonathan Edwards writes:
The divine glory and beauty of divine things is in itself a real evidence of their divinity, and the most direct and strong evidence….We cannot rationally doubt but that things that are divine, and that appertain to the Supreme Being, are vastly different from the things that are human: that there is a God-like, high, and glorious excellency in them, that does so distinguish them from the things which are of men that the difference is ineffable; and therefore such as, if seen will have a most convincing, satisfying influence upon any one that they are what they are, viz., divine.[2]
A Bad Heart and Eyes
People reject the authority of Scripture in the same way they reject the testimony of creation, providence, and their own conscience—from the preference of a fallen heart, not a lack of evidence. "A natural man does not accept the things of the Spirit of God; for they are foolishness to him, and he cannot understand them, because they are spiritually appraised" (1 Corinthians 2:14 NAS). As one without taste buds cannot appreciate the taste of honey, so people without a love of God's holiness as revealed in Scripture will never see Scripture as the Word and words of God. The sin-darkened heart that rejects the beauty of the One displayed in its pages will reject Him as its composer. Moreover, as Christ said, "If anyone's will is to do God's will, he will know whether the teaching is from God or whether I am speaking on my own authority" (John 7:17 ESV). The heart unwilling to obey God will not see Scripture as the revelation of God's will.
The Need of Despair
Lastly, a heart unconvinced of the evil of its own sin will not see Scripture in its proper glory. As James Denney once wrote, neither "historical scholarship" nor "insight of genius" is needed to understand the Gospel, but "despair."
Paul did not preach for scholars, nor even for philosophers; he preached for sinners. He had no gospel except for men whose mouths were stopped, and who were standing condemned at the bar of God. They understood him, and they find him eminently intelligible still. When a man has the simplicity to say, with Dr. Chalmers, "What could I do if God did not justify the ungodly?" he has the key to the Pauline gospel of reconciliation in his hand.[3]
The despair of one's soul before a holy God comes by a glimpse of our sin and unworthiness in the light of God's infinite holiness. By this we see the marvelous remedy in Christ, the beauty and excellence of God's perfect nature and works in Scripture, and His fingerprints on every word. The greatest evidence of Scripture as God's Word is Scripture itself, reflecting the infinite excellence of its Author.
[1] Psalm 19:1-7, Acts 14:15-17, Romans 2:14-15.
[2] Jonathan Edwards, The Religious Affections (Edinburgh: Banner of Truth, 1986), 224, 225. Cf. Jonathan Edwards, Religious Affections, ed. John Edwin Smith, The Works of Jonathan Edwards, vol. 2 (New Haven: Yale University Press, 1959), 298, 299.
[3] James Denney, The Christian Doctrine of Reconciliation (London: Hodder & Stoughton, 1919; reprint, Quinta Press, 2012), 179-180. Accessed February 16, 2014, http://www.quintapress.macmate.me/PDF_Books/Reconciliation_v1.pdf.
Click here to download a PDF of this article.
© 2016 Craig Biehl, author of God the Reason, The Box, The Infinite Merit of Christ, and Reading Religious Affections
Yes, I Want a PDF of "The Ultimate Evidence for the Divine Nature of Scripture"
We respect your privacy. We'll NEVER sell, rent, or share your email address. That's more than a policy, it's our guarantee!