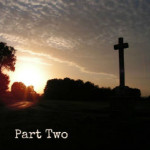 In the last post we examined how God's perfect and unchanging justice and requirement for eternal life makes the saving work of Jesus Christ the only possible way of salvation. Forgiveness of sin and eternal life are only possible by Christ's satisfaction of the strict and unchanging justice of God. Few, however, partake of the benefits of Christ's work. How, then, does the accomplishment of salvation by Christ become the possession of sinners?
Union with Christ by Faith
God set His love on the elect "before the foundation of the world" (Ephesians 1:4), but the bond of love between Christ and the objects of His love remains incomplete until the believer unites to Christ by faith. In love, saving faith embraces Christ and His righteousness alone for eternal life, forsaking the trust of any possible saving righteousness of our own.
Scripture depicts the union of Christ and believers as a marriage. When a man and woman legally unite in the bond of love and become one flesh in the sight of God, all that belongs to the bride becomes the possession of the groom, while all that belongs to the groom becomes the possession of the bride. In the same way, faith unites the believer to Christ in the bond of love and the two legally become one flesh in the eyes of God. United to Christ through faith, our sins were imputed to Christ on the cross when He suffered the Father's infinite wrath for our sin, "For our sake He made Him to be sin who knew no sin, so that in Him we might become the righteousness of God" (2 Corinthians 5:21). The righteousness of Christ that satisfied God's just requirements for eternal life is legally imputed or credited to the believer. "And because of Him you are in Christ Jesus, who became to us wisdom from God, righteousness and sanctification and redemption" (1 Corinthians 1:30).
Justification by Faith Alone Upholds God's Perfect Justice
Christ "demonstrated" God's "righteousness" by paying the penalty for sin on the cross in order that God "might be just and the justifier of the one who has faith in Jesus" (Romans 3:26). "For if, because of one man's trespass, death reigned through that one man, much more will those who receive the abundance of grace and the free gift of righteousness reign in life through the one man Jesus Christ" (Romans 5:17). "But now the righteousness of God has been manifested apart from the law, although the Law and the Prophets bear witness to it–the righteousness of God through faith in Jesus Christ for all who believe" (Romans 3:21-22).
The law as a means of justification remains entirely contrary to justification by grace through faith alone, but only because its requirements could only be met by Christ. In this way the standard and requirements of God's justice remain intact. Thus we read, "Do we then overthrow the law by this faith? By no means! On the contrary, we uphold the law" (Romans 3:31).
No Other Way
Therefore, "by works of the law no one will be justified" (Galatians 2:16), and "there is salvation in no one else" and "no other name under heaven given among men [Jesus] by which we must be saved" (Acts 4:12). God's strict and inflexible justice cannot allow salvation any other way. All distortions and denials of the Gospel, including all religions of works righteousness, stand on the denial of God's unchanging and perfect justice and Christ's perfect work to satisfy it. "If righteousness comes through the Law" (i.e., by sinners keeping the Law), "then Christ died for no purpose" (Galatians 2:21). A false Gospel, then, insults God as righteous and Christ's perfect and saving work as savior.
But whatever gain I had, I counted as loss for the sake of Christ. Indeed, I count everything as loss because of the surpassing worth of knowing Christ Jesus my Lord. For his sake I have suffered the loss of all things and count them as rubbish, in order that I may gain Christ and be found in him, not having a righteousness of my own that comes from the law, but that which comes through faith in Christ, the righteousness from God that depends on faith (Philippians 3:7-9).
And so it is that "Christ is the end of the law for righteousness to everyone who believes" (Romans 10:4). Its strict requirements pushed us to Christ, who satisfied its requirements on our behalf, that we might be covered in His righteousness and stand "blameless before the presence of his glory with great joy" (Jude 24).
Unless noted otherwise, Scripture quotations are from The Holy Bible, English Standard Version® (ESV®), copyright © 2001 by Crossway, a publishing ministry of Good News Publishers. Used by permission. All rights reserved."
Click here to download a PDF of this article.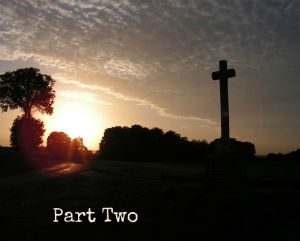 Yes, I Want a PDF of "God's Perfect and Unchanging Justice Is the Ground of the Gospel –
Part Two: Salvation Applied"
We respect your privacy. We'll NEVER sell, rent, or share your email address. That's more than a policy, it's our guarantee!