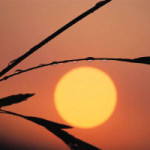 Believers often appeal to a lack of evidence for the existence of God in the world to justify their unbelief. "If I could see enough evidence for God," or, "if He would reveal Himself to me I would believe in Him," some would say. But, do people oppose and reject the Gospel because they lack evidence for God's existence? Must we first convince unbelievers of the existence of God before presenting the Gospel? Let's see.
Knowledge of God in Creation
To begin, "The heavens declare the glory of God, and the sky above proclaims his handiwork" (Psalm 19:1). "The whole earth is full of his glory" (Isaiah 6:3). God displays His nature and existence in His works.
For the wrath of God is revealed from heaven against all ungodliness and unrighteousness of men, who by their unrighteousness suppress the truth. For what can be known about God is plain to them, because God has shown it to them. For his invisible attributes, namely, his eternal power and divine nature, have been clearly perceived, ever since the creation of the world, in the things that have been made. So they are without excuse. For although they knew God, they did not honor him as God or give thanks to him, but they became futile in their thinking, and their foolish hearts were darkened (Romans 1:18-21 ESV).
The evidence for God's existence, genius, power, and goodness appears so obvious that all people are in debt to seek God and give Him thanks. As the works of a Rembrandt display his brilliance and surpass the scribbles of a child, so God's works display His divine genius to such an extent that unbelievers "know" God, even while they deny Him from a heart of hostility. Their knowledge of God lacks the personal and loving aspect of the believer's knowledge, but they know God, nonetheless. "Light is come into the world, and men loved the darkness rather than the light; for their deeds were evil" (John 3:19). In a similar way, Satan and demons "know" God, but despise His holiness and refuse to bow the knee to His authority.[1]
Knowledge of God in Good Things
Further, God "did not leave himself without witness, for he did good by giving you rains from heaven and fruitful seasons, satisfying your hearts with food and gladness" (Acts 14:17 ESV). Every grain of wheat, every meal, every raindrop declares His goodness. Every good thing we enjoy calls us to thank and worship God.
Knowledge of God in the Conscience
An inescapable knowledge of God also resides in the conscience and consciousness of every soul, for God has written His law upon every heart.[2] And while few will admit it, none can fully escape it. The madness of holding in contempt the One who holds the destiny of every soul is magnified by the fact that, deep down, people know better.
Saving Knowledge of God in Christ
In conclusion, we bring the Gospel to people who know God enough through creation, good things, and the witness of their conscience to seek, thank, and worship Him. At the same time, the unbeliever's knowledge of God saves no one, for "faith comes from hearing, and hearing by the word of Christ" (Romans 10:17 NAS). People are born again "through the living and abiding word of God" (1 Peter 1:23). And while no one embraces Christ in faith until God opens their eyes to see their sin in the light of the excellence of God's holiness in Christ and the Gospel, "Whosoever shall call upon the name of the LORD shall be saved" (Romans 10:13). So, when people oppose and reject Christ in the same way they reject their general knowledge of God, we always have a point of contact with unbelievers in the inescapable knowledge of God in their soul. We are "not ashamed of the gospel, for it is the power of God for salvation to everyone who believes" (Romans 1:16 NAS).
[1] See James 2:19.
[2] Romans 2:14-15.
Click here to download a PDF of this article.
Yes, I Want a PDF of "Unbelief Denies the Obvious and Is Without Excuse"
We respect your privacy. We'll NEVER sell, rent, or share your email address. That's more than a policy, it's our guarantee!