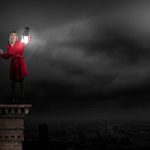 In the previous article, we explored the importance of discerning between the "secret" and "revealed" things of God. We turn now to six basic principles that, when applied to theological difficulties encountered in Scripture, would prevent needless errors created by attempts to grasp or logically reconcile issues best relegated to the "secret things."
1) God's ways are perfect in every way and infinitely higher than our ways.
For my thoughts are not your thoughts, neither are your ways my ways, declares the LORD. For as the heavens are higher than the earth, so are my ways higher than your ways and my thoughts than your thoughts" (Isaiah 55:8-9).
Then the LORD answered Job out of the whirlwind and said: "Who is this that darkens counsel by words without knowledge? Dress for action like a man; I will question you, and you make it known to me. Where were you when I laid the foundation of the earth? Tell me, if you have understanding" (Job 38:1-4).
Who has measured the waters in the hollow of his hand and marked off the heavens with a span, enclosed the dust of the earth in a measure and weighed the mountains in scales and the hills in a balance? Who has measured the Spirit of the LORD, or what man shows him his counsel? Whom did he consult, and who made him understand? Who taught him the path of justice, and taught him knowledge, and showed him the way of understanding?" (Isaiah 40:12-14).
2) As created, finite and dependent on God for all knowledge, we can only know what God has chosen to reveal to us.
The secret things belong to the LORD our God, but the things that are revealed belong to us and to our children forever, that we may do all the words of this law" (Deuteronomy 29:29).
3) Our limited understanding does not constitute the standard of what can or cannot be true with God, or what God can and cannot do in His universe.
Behold, I am the LORD, the God of all flesh; is anything too hard for Me?" (Jeremiah 32:27).
When I applied my heart to know wisdom, and to see the business that is done on earth, how neither day nor night do one's eyes see sleep, then I saw all the work of God, that man cannot find out the work that is done under the sun. However, much man may toil in seeking, he will not find it out. Even though a wise man claims to know, he cannot find it out" (Ecclesiastes 8:16-17).
But who are you, O man, to answer back to God? Will what is molded say to its molder, "Why have you made me like this?" (Romans 9:20).
4) No proposed solution to the "problem of evil" or other theological difficulty can compromise any revealed attribute of God, or any necessary implication of an attribute of God.
And the LORD said to Job: 'Shall a faultfinder contend with the Almighty? He who argues with God, let him answer it.' Then Job answered the LORD and said: 'Behold, I am of small account; what shall I answer you? I lay my hand on my mouth. I have spoken once, and I will not answer; twice, but I will proceed no further.' Then the LORD answered Job out of the whirlwind and said: 'Dress for action like a man; I will question you, and you make it known to me. Will you even put me in the wrong? Will you condemn me that you may be in the right?'" (Job 40:1-8).
What if some were unfaithful? Does their faithlessness nullify the faithfulness of God? By no means! Let God be true though every one were a liar, as it is written, 'That you may be justified in your words, and prevail when you are judged.' But if our unrighteousness serves to show the righteousness of God, what shall we say? That God is unrighteous to inflict wrath on us? (I speak in a human way.) By no means! For then how could God judge the world?" (Romans 3:3-6).
5) The responsibility and guilt of sin always belongs to the will of the one who sins, including the foreordained acts of sinners.
See, this alone I found, that God made man upright, but they have sought out many schemes" (Ecclesiastes 7:29).
This Jesus, delivered up according to the definite plan and foreknowledge of God, you crucified and killed by the hands of lawless men" (Acts 2:23).
For truly in this city there were gathered together against your holy servant Jesus, whom you anointed, both Herod and Pontius Pilate, along with the Gentiles and the peoples of Israel, to do whatever your hand and your plan had predestined to take place" (Acts 4:27-28).
For the Son of Man goes as it has been determined, but woe to that man by whom he is betrayed!" (Luke 22:22).
6) God has remedied evil at infinite cost to Himself. In the saving work of Christ, He upheld and displayed His perfect righteousness and sufficiently revealed His perfect character in which we can fully trust in the face of the greatest mysteries and difficulties.
But now the righteousness of God has been manifested apart from the law, although the Law and the Prophets bear witness to it—the righteousness of God through faith in Jesus Christ for all who believe. For there is no distinction: for all have sinned and fall short of the glory of God, and are justified by his grace as a gift, through the redemption that is in Christ Jesus, whom God put forward as a propitiation by his blood, to be received by faith. This was to show God's righteousness, because in his divine forbearance he had passed over former sins. It was to show his righteousness at the present time, so that he might be just and the justifier of the one who has faith in Jesus" (Romans 3:21-26).
Summary
In light of God's perfect excellence and infinity, and our dependence on Him for all truth and knowledge, we will always face mysteries beyond our comprehension. Therefore, as our faith stands on the all-powerful and impeccable character of God; humility, reverence, and trust in God should always attend our response to difficult questions. "Oh, the depth of the riches and wisdom and knowledge of God! How unsearchable are his judgments and how inscrutable his ways! For who has known the mind of the Lord, or who has been his counselor?" (Romans 11:33-34). Not you or me. Thus, with God's glory and our human limitations we rest content.
Unless otherwise indicated, Scripture quotations are from The Holy Bible, English Standard Version® (ESV®), copyright © 2001 by Crossway, a publishing ministry of Good News Publishers. Used by permission. All rights reserved.
Click here to download a PDF of this article.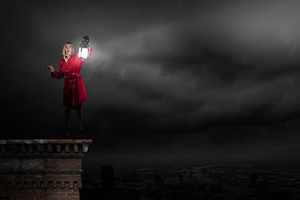 Yes, I Want a PDF of "Six Rules for Engaging Bible Difficulties"
We respect your privacy. We'll NEVER sell, rent, or share your email address. That's more than a policy, it's our guarantee!