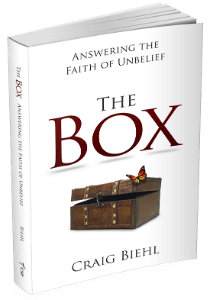 How could something so simple say something so profound, and how did I miss it for all of these years?" — Mr. A From The Box
"EDITOR'S CHOICE" – Christian Review Magazine
Fun, easy to read, no technical jargon
Exposes the unreasonable blind faith of unbelief
Builds joy and faith in Christ and Scripture
The books The Box and God the Reason are part of the Unbreakable Faith online course.
Understand key principles about atheism and agnosticm and all unbelief by downloading a FREE copy of The Box.
We respect your privacy. We'll NEVER sell, rent, or share your email address.
That's more than a policy, it's our guarantee!