We all bear the weight of a boatload of baggage, things of our past that haunt us today. Perhaps you were born into a difficult family, neighborhood, or financial situation. Maybe you have faced severe disappointments or losses, the death of a son, daughter, mother, father, or friend. Perhaps you have been cheated or mistreated, and frustrating and debilitating scars remain.
In my previous article we observed how all people intuitively and immediately know God's existence, power, genius, and goodness by His works. We have proof aplenty. And while this indictment of unbelief helps clarify its unreasonable rejection of the obvious—the clear, comprehensive, and convincing evidence for God also offers great relief to those who wrestle with the emotional and spiritual wounds of youth. Space prevents a deep or broad examination of the issue, but you may be surprised how a critical apologetic principle provides simple and helpful medicine to those struggling with the nagging effects of their past.
Bruises and Blame
We all suffer the bruises of a fallen world; sin hurts and destroys. Unfortunately, our response to trouble can magnify the damage and suppress the good that might come from it. Frustrated, we might question why we still struggle and blame others for the ongoing effects of our childhood problems. Perhaps you blame your environment, acquaintances, and parents for your personality and emotional quirks and have spent great time and energy recounting and seeking relief from the mess they made of you. Maybe you turned to drugs, alcohol, pleasure, success, or other "cures" to solve your problems and satisfy your desires.
Of course, we should not discount our responsibility for how our actions may affect others, especially how they affect the sensitive and moldable hearts of our children. Ungodly notions of family and child rearing have consequences. But for our present and narrow purpose we ask, how much do we personally share the blame for the persistent effects of our childhood and teenage troubles?
Sufficient and Abundant Wine and Bread
To answer, we must first ask if God has provided sufficient evidence of His existence and excellence that we should have run to Him, cry to Him, cast our cares upon Him, and ultimately seek His infinite love through faith in Christ. Indeed, if His glory so shines that all are "without excuse" for not worshipping and giving Him thanks (Rom. 1:18ff.), then it sufficiently shines that we should seek Him in all things, especially our troubles. We are immersed in the display of His excellence and our dependence on Him, thus we have every encouragement to seek Him.
It's no wonder, then, that God questions our foolish pursuit of help elsewhere, even as He offers grace: "Why do you spend money for what is not bread, and your wages for what does not satisfy?" (Isa. 55:2). "Every one who thirsts, come to the waters; And you who have no money come, buy and eat. Come, buy wine and milk without money and without cost." "Listen carefully to Me, and eat what is good, and delight yourself in abundance" (Isa. 55:1, 2). But having gorged ourselves with worthless or poisonous fare, we blame, harbor bitterness, and throw pity parties. What baggage could have been avoided had we run to God?
Running the Wrong Way on Empty
Perhaps we lacked love as a child, but did we run to the One whose love is perfect? Maybe we lacked guidance, boundaries, and purpose, but did we run to the Architect of the universe that made us for the greatest purpose? Perhaps we were deprived of emotional and psychological supports and nurture, but did we run to the One who meets every need, whose love surpasses all understanding? "For as high as the heavens are above the earth, So great is His lovingkindness toward those who fear Him" (Psalm 103:11). "How blessed are those who observe His testimonies, Who seek Him with all their heart" (Psalm 119:2). Did we seek the God of infinite love or run to vices that deepened and prolonged our wounds?
The Blessing of Confessing and Responsibility
We dare not minimize the profound suffering and trials of a corrupt world. As Christ shed tears for the broken hearts of Mary and Martha, so we should show compassion toward the hurts of others. But while we cannot bear the blame for every ill we suffer, we can take responsibility for our response. Here, as elsewhere, owning and confessing our sin against God goes a long way toward peace and contentment. And as "God causes all things to work together for good to those who love God, to those who are called according to His purpose" (Rom. 8:28), He can turn the foolishness and effects of our youth into a means of greater godliness and joy. Many will enjoy an eternity of happiness in heaven because God used their troubles to bring them to faith in Christ.
Concluding Remarks
We all groan this side of glory, but "the sufferings of this present time are not worthy to be compared with the glory that is to be revealed" (Rom 8:18). And given the clear display of God's excellence, we could and should have been wiser. Nevertheless, our remaining baggage gives further opportunity for contentment and blessing as we cling to Christ, "for when [we are] weak, then [we are] strong" (2 Cor. 12:10). In the end, our every blessing is found in Him as our struggles drive us into His loving and all-sufficient arms: "These things I have spoken to you, that in Me you may have peace. In the world you have tribulation, but take courage; I have overcome the world" (John 16:33).
Scriptures are taken from the NEW AMERICAN STANDARD BIBLE®, copyright© 1960, 1962, 1963, 1968, 1971, 1972, 1973, 1975, 1977, 1995 by The Lockman Foundation. Used by permission.
Click here to download a PDF of this article.
© 2019 Craig Biehl, author of God the Reason, The Box, The Infinite Merit of Christ, and Reading Religious Affections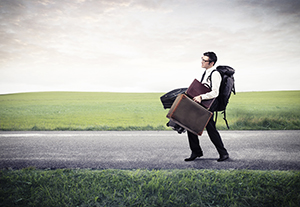 Yes, I Want a PDF of "Baggage, Responsibility, and the Display of God's Excellence"
We respect your privacy. We'll NEVER sell, rent, or share your email address. That's more than a policy, it's our guarantee!