Have you ever wondered why Scripture sometimes speaks of the Father's love of Christ as conditional, as given in response to Christ's obedience? For instance, in John 10:17 we read, "For this reason the Father loves Me, because I lay down My life that I may take it again." For many years as a believer I found this particular verse somewhat puzzling. Scripture also speaks of the Father's exaltation of Christ as contingent on His obedience.
Although He existed in the form of God, did not regard equality with God a thing to be grasped, but emptied Himself, taking the form of a bond-servant, and being made in the likeness of men. And being found in appearance as a man, He humbled Himself by becoming obedient to the point of death, even death on a cross. Therefore also God highly exalted Him, and bestowed on Him the name which is above every name, that at the name of Jesus every knee should bow, of those who are in heaven, and on earth, and under the earth, and that every tongue should confess that Jesus Christ is Lord, to the glory of God the Father" (Philippians 2:6-11).
In the same way, the elevation of Christ above the angels comes as a reward for His love of righteousness and saving work on the cross. "He is the radiance of His glory and the exact representation of His nature, and upholds all things by the word of His power. When He had made purification of sins, He sat down at the right hand of the Majesty on high; having become as much better than the angels, as He has inherited a more excellent name than they" (Hebrews 1:3-4). "Thou hast loved righteousness and hated lawlessness; therefore God, Thy God, hath anointed Thee with the oil of gladness above Thy companions" (Hebrews 1:9). "But we do see Him who has been made for a little while lower than the angels, namely, Jesus, because of the suffering of death crowned with glory and honor, that by the grace of God He might taste death for everyone" (Hebrews 2:9).
Big Questions
How, then, can God's love of Christ be earned when the love between the Father and Son is perfect, without beginning or end? How can Christ be elevated above the angels when the Son of God forever stands infinitely superior to all things? And how can Christ be exalted to the right hand of the Father as a reward when the Son's sovereign rule over all things belongs to Him as His divine right from eternity?
The answer lies in Christ as the second Adam. With Christ as man, living and dying in our place, we have the explanation of God's love and exaltation given in response to Christ's saving work—He earned for us the Father's love and our exaltation by the righteousness and infinite merit of His obedience. Thus, the reward for Christ's merit constitutes the reward for those He purchased to be His bride.
Christ as Man and Man in Christ
Christ as representing mankind provides the answer to the sometimes-debated identity of the humbled and exalted subject of Hebrews 2:6-8:
But one has testified somewhere, saying, 'What is man, that Thou rememberest him? Or the son of man, that Thou art concerned about him? "Thou hast made him for a little while lower than the angels; Thou hast crowned him with glory and honor, and hast appointed him over the works of Thy hands; Thou hast put all things in subjection under his feet.' For in subjecting all things to him, He left nothing that is not subject to him. But now we do not yet see all things subjected to him."
Does the passage speak of Christ or man? Answer, it speaks of both Christ as man and man as united to Christ. The Son of God was humbled and exalted as our mediator, as the second Adam, as man standing in the place of sinners. In His incarnation He was made lower than angels, and in His humanity He was exalted to rule at the right hand of God as our substitute. Having "emptied Himself," having taken the "form of a bond-servant," He was "highly exalted" as the reward for His obedience "to the point of death, even death on a cross" (Philippians 2:7-8). Having been made "lower than the angels…that by the grace of God He might taste death for everyone," He was "crowned with glory and honor" in our place (Hebrews 2:9). He earned for us the infinite reward owed Him for the infinite merit of His voluntary death on the cross to pay the penalty for our sin. "Through the obedience of the One the many will be made righteous" (Romans 5:19). "By His doing you are in Christ Jesus, who became to us wisdom from God, and righteousness and sanctification, and redemption" (1 Corinthians 1:30). Acting on our behalf, as both God and man, Christ earned for us every spiritual blessing.
Joint Reign at God's Right Hand
Since the Father rewarded Christ for the merit of His obedience unto death, since Christ stood as our representative, and since those united to Christ by faith receive the just deserts for Christ's merit imputed to them, so we will reign with Christ at the right hand of the Father.
I pray that the eyes of your heart may be enlightened, so that you may know what is the hope of His calling, what are the riches of the glory of His inheritance in the saints, and what is the surpassing greatness of His power toward us who believe. These are in accordance with the working of the strength of His might which He brought about in Christ, when He raised Him from the dead, and seated Him at His right hand in the heavenly places, far above all rule and authority and power and dominion, and every name that is named, not only in this age, but also in the one to come. And He put all things in subjection under His feet, and gave Him as head over all things to the church, which is His body, the fulness of Him who fills all in all" (Ephesians 1:18-23).
Participation in Christ's rule became our possession and right when we were born again, when we united to Christ by saving faith. "But God, being rich in mercy, because of His great love with which He loved us, even when we were dead in our transgressions, made us alive together with Christ (by grace you have been saved), and raised us up with Him, and seated us with Him in the heavenly places, in Christ Jesus" (Ephesians 2:4-6), where "we shall judge angels" (1 Corinthians 6:3). Therefore, God's love and exaltation constitute the reward Christ earned for His beloved bride, purchased as our substitute by His perfect obedience and sacrificial death to meet the requirements of God's justice. Covered in Christ's righteousness we will be exalted forever as trophies of God's infinite love and grace.
Scripture taken from the NEW AMERICAN STANDARD BIBLE, © Copyright The Lockman Foundation 1960, 1962, 1963, 1968, 1971, 1972, 1973, 1975, 1977, 1988, 1995. Used by permission.
Click here to download a PDF of this article.
© 2017 Craig Biehl, author of God the Reason, The Box, The Infinite Merit of Christ, and Reading Religious Affections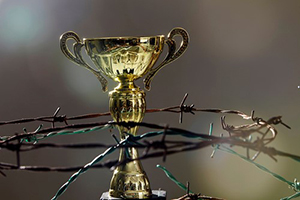 Yes, I Want a PDF of "The Father's Conditional Love of Christ"
We respect your privacy. We'll NEVER sell, rent, or share your email address. That's more than a policy, it's our guarantee!